Tous les articles tagués video
54 Articles
Multi-media artist Eglantine Bacro –  (Born 1992, france)
Nylon wire sculptures, videos, photography, stop-motion, painting.
Magnifique video Antarctica, tournée en décembre et janvier 2015 par le suédois Kalle Ljung parti à la découverte de l'Antarctique avec son père..
A voir en pleine ecran.
Antarctica from Kalle Ljung on Vimeo.
This movie was shot during our 20 days trip to Antarctica in December 2014 to January 2015.
We started from Ushuaia in Argentina and went to Port Williams in Chile, rounded Cape Horn and crossed the Drake Passage towards the Melchior Islands in Antarctica. We spent 16 days in the Antarctic and got to experience the most amazing scenery and wildlife before we returned back to Ushuaia.
Filmed with GoPro HERO3+ Black Edition and DJI Phantom 2, edited with Final Cut Pro X.
Bioluminescent forest Project : Magic !
The projection mapping "bioluminescent forest" is made by artists Friedrich van Schoor and Tarek Mawad.
The artists spent six weeks in the forest fascinated by the silence and natural occurrences in nature, especially the phenomenon "bioluminescence". They personified the forest to accentuate the natural beauty by creating luring luminescent plants and glowing magical mushrooms that speaks volumes to any visitor that enters the minds of the artists through viewing "bioluminescent forest".
Art and Digital Imagery – Isabella Morawetz / 22 ans,
a commencé à peindre sur photoshop à 12 ans / sur une Wacom Intuos Pro
"I've spent my 22 years of life drawing and have been photoshopping since I was twelve. Obsessed with all things digital post-process."
and 8 Photoshop brushes, she created Download HERE.
Beautiful and luminous Tree Installation – Tom Price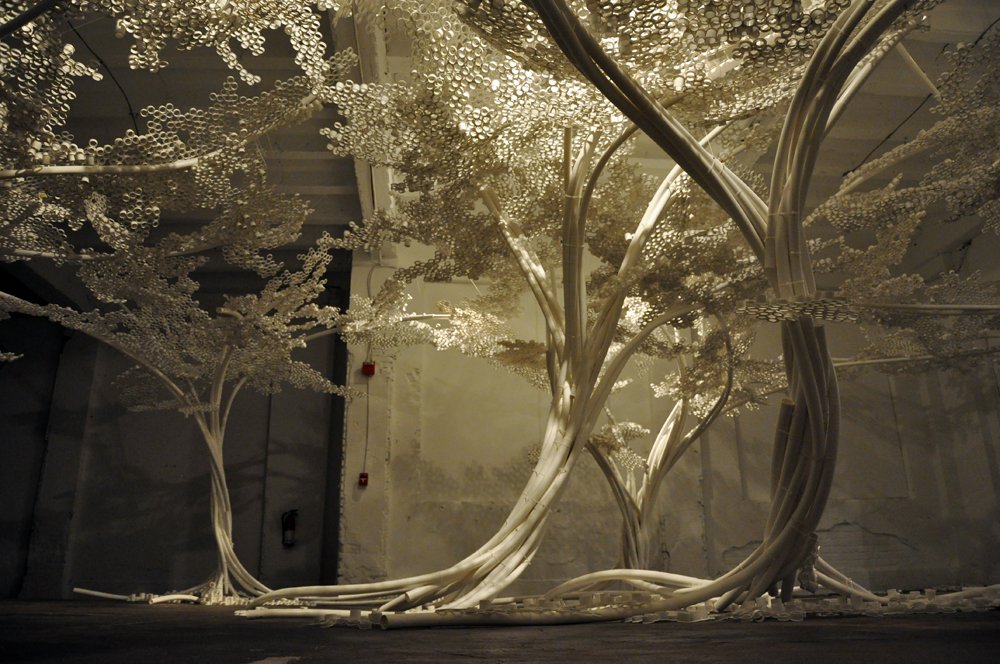 Inspiration for this installation came from the iconic cherry trees of Washington DC. Tom Price constructed a series of sweeping sculptures out of polypropylene tubing, referencing the shapes of the trees and their blossoms. The result was a unique, immersive and site-specific installation, taking over an entire room of Industry Gallery, Washington DC.
Materials:
Polypropylene tubes, nylon cable ties, ultra fine stainless steel wire rope.
La saga "Do you want to save the French Fry ?"
Un spot signé Marcel et Troublemakers.tv pour Tefal Canada, animation marrante et bien faite :
1

2

3

Mise à jour Nécessaire
Pour visualiser la vidéo vous devez soit mettre à jour votre navigateur ou votre plugin Flash.
Fok Julle Naaiers – Die Antwoord, groupe sud-africain.
Textile sculptures de Simone Pheulpin.
Née en 1941, Simone Pheulpin est une sculptrice sur textile (france).
Son travail réside dans le pliage minutieux et répétitif de bandes de coton non blanchi, non décati, rêche, des Vosges. Son façonnage est permis par des attaches non visibles, épingles qu'elle dissimule au cœur de l'œuvre. Il en découle un univers qui apparaît tantôt minéral, tantôt végétal, reflet du monde naturel.
A chance encounter and shared moment with one of natures greatest and most fleeting phenomena. Ireland on the River Shannon.
Starlings showing off their phenomenal talents ! Magnifique !
Mise à jour Nécessaire
Pour visualiser la vidéo vous devez soit mettre à jour votre navigateur ou votre plugin Flash.
parce que ce que… La Maison de Mon Rêve, c'est toi. parce que ce que… Cocorosie.
Je ne parle qu'à un seul individu sur cette terre,
il est handicapé du cortex, aveugle et sourd.
Ah ! et il est con. forcément.
iPad Art – Morgan Freeman Finger Painting by artiste Kyle Lambert, à l'aide de l'appli Procreate (5,49€). +200h
Incroyable /
Image modèle :