Tous les articles tagués steampunk
24 Articles
Steampunk Art Dolls de Rackus Ruckus !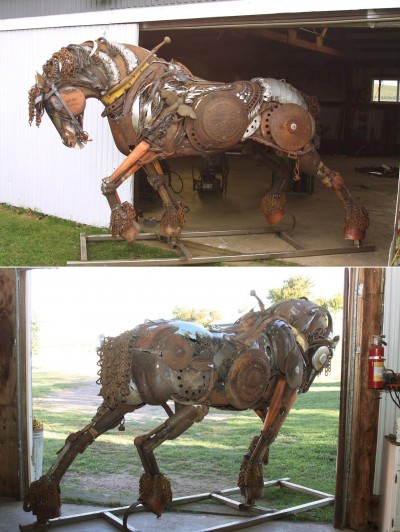 Steampunk sculptures by Jessica Joslin / "Millennial Gepetto Jessica Joslin spends most of her days at a Victorian watchmaker's desk, building a menagerie out of brass and bone. She is an unabashed science nerd, antique hardware fetishist and power tool connoisseur. Known associates with the same last name include: husband Jared Joslin, a brilliant painter of dames and dreams and brother in law Russell Joslin, an incisive photographer of personae and the editor of Shots Magazine."
Steampunk Fine Art by Steelhipdesign. Artist based in Australia.
Mr Hublot, animation de Stéphane Halleux
Mr Hublot est un vieux garçon bourré de manies et de tocs, dont l'univers est composé d'éléments mécaniques. Il ne sort jamais de chez lui car il est effrayé par le monde extérieur.
Court-métrage animé produit par Zeilt Production et Arte, et réalisé par Laurent Witz et Alexandre Espirages a été récompensé par 2 prix au Festival FreeNetWorld 2013 qui avait lieu du 8 au 12 octobre en Serbie, les prix du Meilleur Film D'Animation et le prix du Meilleur Film.
///
Mr Hublot is a withdrawn, idiosyncratic character with OCD, scared of change and the outside world. Robot Pet's arrival turns his life upside down: he has to share his home with this very invasive companion…
///
Mr Hublot récompensé aux Oscars 2014 !
Le film français «Mr Hublot», signé Laurent Witz et Alexandre Espigares, a remporté dimanche à Hollywood l'Oscar du court-métrage d'animation, terrassant «Get A Horse!» de Disney, qui faisait figure de grand favori. Laurent Witz, extrêmement ému, a remercié sa famille, les membres de l'équipe du film, et les organisateurs des Oscars, et a salué «Mr Hublot pour avoir fait de ce rêve une réalité».
L'univers steampunk de Mr Hublot bientôt…
en attendant ne manquez pas ces trailers qui vous chatouilleront de curiosité, je l'espère…
Découvrez l'univers de Stéphane Halleux, le créateur de Mr Hublot sur Facebook.
Mr Hublot >> le site 
et d'autres trailers à voir sur YOUTUBE.