Tous les articles tagués lapin
7 Articles
Sculptures en { grillage } de Kendra Haste. (GB) / Galvanised wire Sculptures
"What interests me most about studying animals is identifying the spirit and character of the individual creatures. I try to create a sense of the living, breathing subject in a static 3-D form, attempting to convey the emotional essence without indulging in the sentimental or anthropomorphic"
Recently commissioned by Historic Royal Palaces to fabricate thirteen sculptures as part of an exhibition 'Royal Beasts' exploring the history of the Royal Menagerie at the Tower of London. The work will remain on-site as a permanent installation once the exhibition finishes.
Made from her trademark material, galvanised wire; life-size lions, baboons, a polar bear and an elephant help tell the story of the exotic animals that were a popular tourist attraction at the Tower from the 1100s.
Sophie Ryder sculpteur.

Né à Londres, en 1963. La plupart des sculptures de Sophie Ryder sont des créatures mythiques, mi-humains mi-animaux. Sa pièce la plus connue est le lièvre Dame, un lièvre avec un corps humain de sexe féminin.. Les sentiments et les émotions sont directement reliés à l'artiste elle-même. Elle utilise des animaux pour explorer les émotions humaines et montrant que les sentiments peuvent être lus. "Le Dame Lièvre m'est venue lorsque je cherchais un compagnon pour le Minotaure. Je voulais un corps de femme avec une tête d'animal et la tête de lièvre semblait fonctionner parfaitement. Elle est généralement accompagnée par un Minotaure, d'un chien ou d'un cheval, et plus récemment seule. l'apparence a également changé et il y a quelques années, la tête est devenue plus définie comme un masque pour montrer plus clairement qu'elle est un sous-homme."
Sophie Ryder was born in London, England, in 1963. She studied Combined Arts at the Royal Academy of Arts where, while obtaining her diploma in painting, she was encouraged by fellow artist to develop her sculpture. Inspired by Picasso, Goya and Henry Moore, she famously developed the Lady Hare as a counter part to Ancient Greek mythology's Minotaur.
Sculptures du Ceramiste animaliers Gaynor Ostinelli (England).
Tres bel art animalier, tres expressif et un tres beau travail du pigment.
Creatures by Kelly Connole, beaucoup d'êtres hybrides aux formes de lapins… Elle vit et travaille aux Etats-Unis.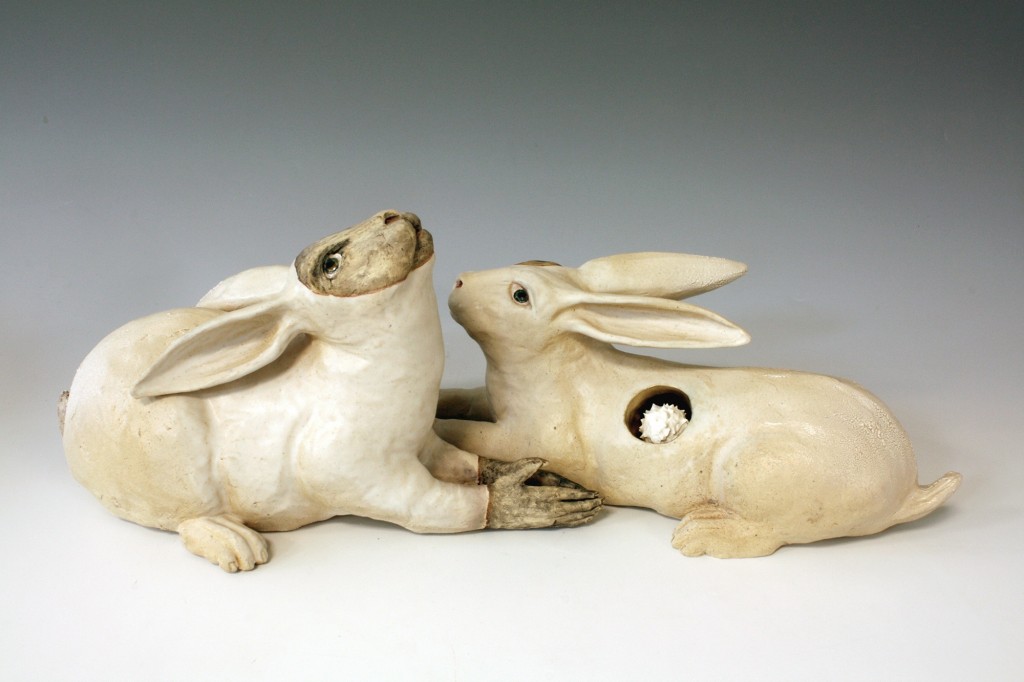 "Quand j'étais une petite fille, dans le Montana les animaux étaient mes compagnons. Plusieurs de mes lapins de compagnie se sont libérés de leurs cages et se multiplièrent . Une nuit de pleine lune, j'ai regardé par la fenêtre de ma chambre pour voir tout un troupeau de lapins dans l'espace entre notre maison et la grange . Le clair de lune brillait sur leur dos, illuminant leurs formes voluptueuses et leurs oreilles curieuses. Quand une volée d'oiseaux a survolé les lapins, leurs ombres fugaces sur leur dos m'a coupé le souffle .
C'est l'un de mes premiers souvenirs , j'avais cinq ou six ans à l'époque, et cela reste l'une des plus belles scènes que je n'ai jamais vu . A cet instant, j'ai vu l'endroit où le ciel et la terre se rencontrent et j'ai senti une partie d'un monde beaucoup plus grand que je ne pouvais alors ou maintenant, décrire avec des mots .
Grâce à cette série de créatures hybrides, j'espère capturer juste un peu de la magie que j'ai vécu cette nuit-là . Les pièces contiennent des fragments de beaucoup d'autres souvenirs et je cherche le lien avec le monde animal."
///
"When I was a little girl living in rural Montana animals were my constant companions. Several of my pet rabbits broke free of their cages and multiplied. One night, on a full moon, I looked out of my bedroom window to see a whole herd of rabbits in the space between our house and the barn. The moonlight glistened on their backs, illuminating their voluptuous forms and curious ears. When a flock of birds flew over the rabbits, casting fleeting shadows on their backs, it took my breath away.
This is one of my earliest memories—I was five or six at the time—and it remains one of the most beautiful sights I have ever seen. At that moment I saw the place where the sky and the earth meet and I felt a part of a world much larger than I could then, or now, describe with words.
Through this series of hybrid creatures I hope to capture just a bit of the magic I experienced that night. The pieces contain layered fragments of many other memories as I seek a connection to the natural world and to others."
Mister Finch excelle en Textile art sculpture, lapin, papillons, graine de pissenlit. C'est sensible et magnifique…
Des bouts de fil, tissu et papier sont cousues pour en tirer ses créatures de contes de fées à la recherche de nouveaux propriétaires et des mondes à habiter. Finch travaille seul et fait tout lui-même à la main dans un studio plein de livres, bocaux en verre et de chats coquins.