Tous les articles tagués Installation
13 Articles
Chiharu Shiota – Venice Biennale 2015 / The key in the hand.
Sculptures et installations Christiane Loehr (Germany/Italy)
Christiane Loehr utilise des matériaux naturels tels que des graines, tiges de plantes ou d'herbes, graines de lierres ou pissenlits, crin de cheval.
Ses sculptures sont fragiles et aériennes, délicates et éphémères.
Installation de L'ESAAT au Musée de la Piscine de Roubaix.
Les étudiants de l'École Supérieure Arts Appliqués et Textile de Roubaix (ESAAT) ont travaillé et exposé des oeuvres dans le hall du Musée de la Piscine de Roubaix et ont surtout avec cette magnifique installation dans le Bassin: un plongeon acrobatique décomposé en figures successives avec des personnages aériens, faits en scotch, retenus par des fils de nylon. Installation prolongée jusqu'au 15 mai.
Subtilité et matière Martine Schildge. Née en 1951, vit et travaille à Paris.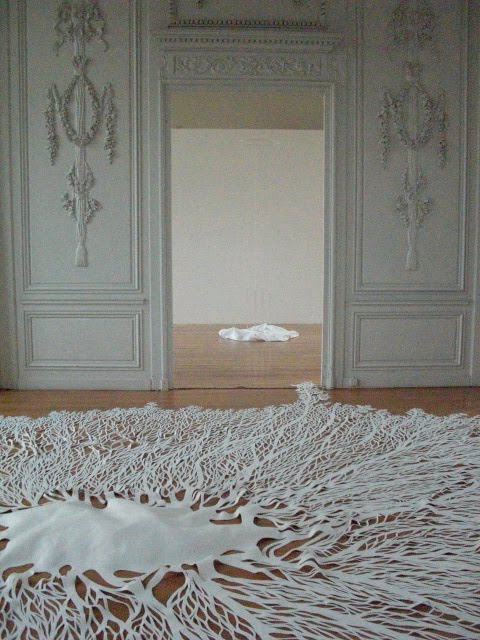 Dans son travail, l'artiste se met à l'ouvrage en nous proposant des installations de textiles blancs. Coutures et broderies se dévoilent au fil d'un parcours conçu de volumes intrigants. Le blanc donne le ton et apporte aux formes la douceur et la fluidité que la subtilité des matières accentue. Dans ce monde, l'intimité et le silence sont de mise.
Mais le songe bascule lorsque l'on contemple de plus près ces figures. Les formes, de plus en plus inquiétantes, sont suspendues, errantes ou encore pour certaines, enfermées et lovées dans des cages de tissus.
Les installations de Martine Schildge font toujours corps avec l'espace. Dans un premier temps, l'artiste s'approprie le lieu et son histoire (carnets de croquis, photographies) et y intègre ensuite mentalement ses formes imaginaires. Verre, céramique, œuvres cousues main et brodées avec diverses matières : tulle, feutre, gaz, organdi, molleton…, de couleur blanche, suscitent toutes sortes d'interrogations et d'émotions.
World of Charles Avery / (born 1973) is a Scottish artist from Oban.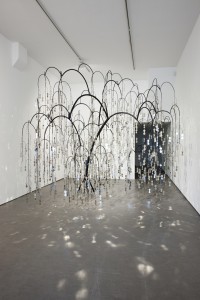 He currently lives and works in London. Since 2004, he has devoted his practice to the perpetual description of an imaginary island. Through drawings, sculptures and texts. Avery describes the topology, cosmology and inhabitants of this fictional territory, from the market of the main town Onomatopoeia to the Eternal Forest where an unknown beast called the Noumenon is held to reside. The project can be read as a meditation on some of the central themes of philosophy of art-making, and on the colonization and ownership of the world of ideas.
He is represented by the gallery Pilar Corrias in London.
(Source : wikipedia)
Beautiful and luminous Tree Installation – Tom Price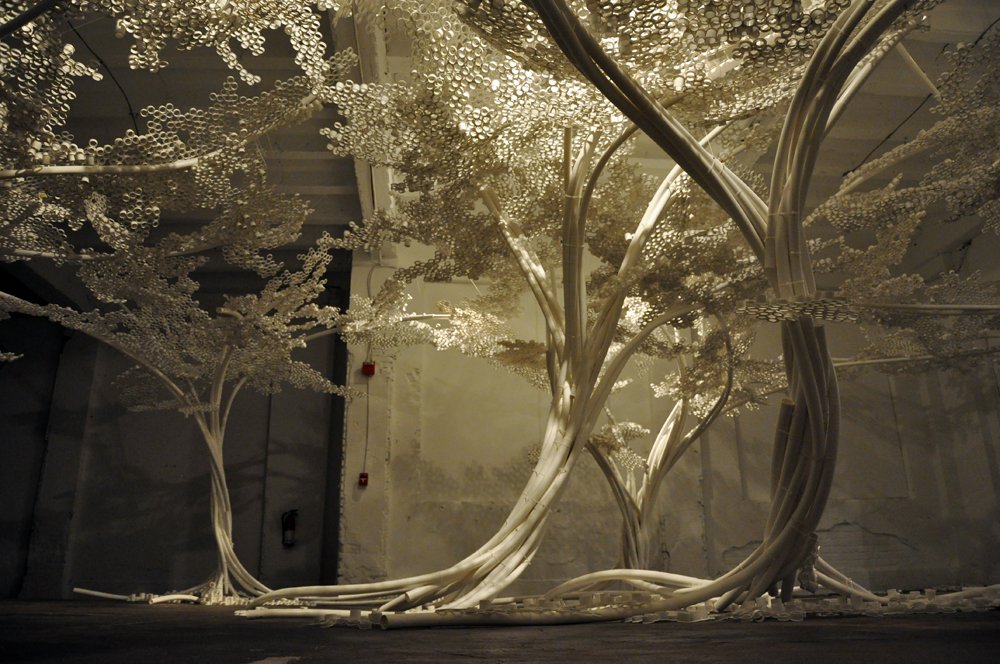 Inspiration for this installation came from the iconic cherry trees of Washington DC. Tom Price constructed a series of sweeping sculptures out of polypropylene tubing, referencing the shapes of the trees and their blossoms. The result was a unique, immersive and site-specific installation, taking over an entire room of Industry Gallery, Washington DC.
Materials:
Polypropylene tubes, nylon cable ties, ultra fine stainless steel wire rope.
Humanimal – Sculptures and installations Jane Alexander. Born 1959 – South africa.
"L'univers plastique de Jane Alexander est mélancolique, désabusé. La figure pleinement humaine y est quasiment absente, laissant place à des créatures bestiales. Des monstres créés et façonnés par l'homme. Enfermé chacun dans une perspective de plus en plus égocentrique, notre isolement fait ressortir le pire. Obnubilés par nos besoins irrationnels de protection et de sécurité face à l'Autre, nous avons développé des stratégies de remparts de plus en plus honteuses, sans jamais avoir appris la leçon de l'Histoire."
Neo-Pop artist Dan Colen (American, b.1979) is a multimedia creator who has made quite a name for himself with his unique painted sculptures, gum paintings, and installations.
EnregistrerEnregistrer
EnregistrerEnregistrer
Découvrez les sculptures "entre ciel et terre" de Jorge Mayet. 
Originaire de Cuba, il vit actuellement en Espagne.
Installation artistique en papier toilette blanc de Sakir Gokcebag (artiste d'origine turc) / Beautiful Abstract Toilet Paper Installations.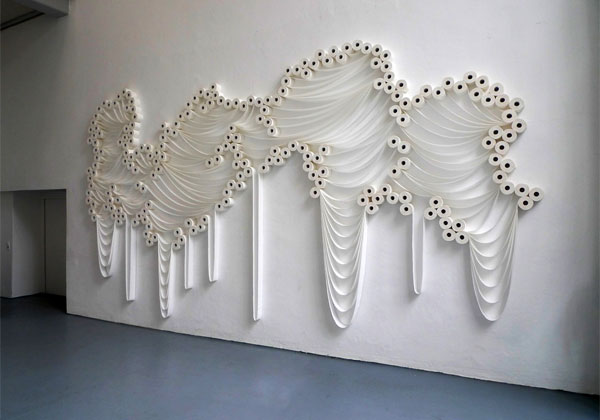 Ses Trans-Layers sont faites avec des rouleaux entiers de papier toilette dont le rendu est assez originale et surprenant.