Tous les articles tagués drawings
6 Articles
Beautiful art of Alice Lin. (China)
Alice Lin is a Beijing based illustrator, painter.
She started studying calligraphy, Chinese painting and classical poetry when she was a child. She likes to use the techniques and tools of Chinese painting to express herself. Her style is rich and full of details, integrating watercolor and Chinese techniques to express a unique, weird and fanciful whimsical. Highly detailed and revealing the universe of the mind. This new and fascinating wonderland of possible realities combines with the human figure enforcing emotions.

Material : Rice paper, water color, natural mineral pigment Technique..
Jesse Thompson – Sculptures / resin –
Playing with Proportions  "For whatever reason, I have this affinity for the weird, ugly and uncomfortable, and a sort of distaste for the beautiful and lovely,"
Originally from New Jersey, Jesse Thompson has made his home in Providence, RI.  After graduating from the Rhode Island School of Design's Masters in Sculpture Program in 2007, Jesse established a studio on Providence's west side where he makes sculptures, paintings, drawings and friends with stray cats. He teaches drawing, illustration, anatomy and animation at The Rhode Island School of Design, Monserrat College of Art, and Bristol Community College.
Narrative paintings of James Guppy, born in London (1954). Live and work in Australia.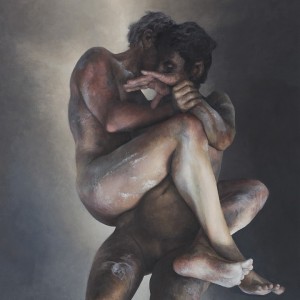 Guppy's powerful and enigmatic narrative-based paintings travelled to eleven different locations in Australia in a national solo touring survey show (2009 – 11). Throughout his career, Guppy's subject matter has varied from surreal moments, scenes of suspense, explosion clouds, formidable women and anthropomorphic beings, all executed with a refined and intelligent approach, appearing both dramatic and lifelike.
World of Charles Avery / (born 1973) is a Scottish artist from Oban.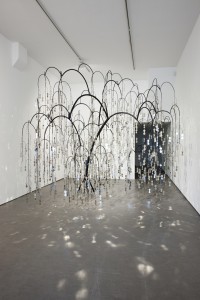 He currently lives and works in London. Since 2004, he has devoted his practice to the perpetual description of an imaginary island. Through drawings, sculptures and texts. Avery describes the topology, cosmology and inhabitants of this fictional territory, from the market of the main town Onomatopoeia to the Eternal Forest where an unknown beast called the Noumenon is held to reside. The project can be read as a meditation on some of the central themes of philosophy of art-making, and on the colonization and ownership of the world of ideas.
He is represented by the gallery Pilar Corrias in London.
(Source : wikipedia)