Dentelles illustratives de l'Artist Iain Macarthur.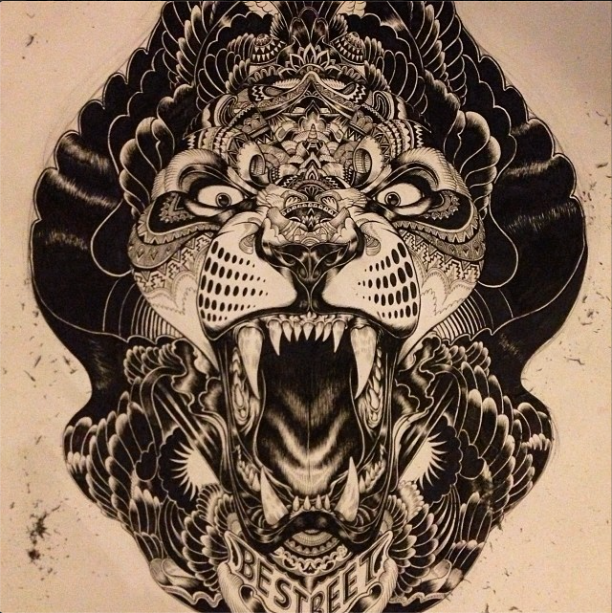 "Born in Swindon, England, I became a fanatic of art at the age of eight when I was first introduced to art through the medium of cartoon television shows and comic books. My first ever comic book was from the Batman series. Ever since then I've been obsessed with art, drawing odd fantasy drawings and Anime characters.
I am influenced by many artists and illustrators – all with differing styles and mediums – and have turned to their work for artistic stimulation over the years. Among them are Alphonse Mucha, Gustav Klimt, Lucian Freud, Jenny Saville, James Jean, David Choong Lee, Sergio Toppi and Ashley Wood. I've also gained much inspiration through cartoons art and lighting; people's facial expressions, eyes and different forms of organic patterns and shapes.
In 2008, I graduated from Swindon College with a degree in HND Illustration and hope to progress to a B.A. in Illustration sometime in the future. I've done a few exhibitions such as the Swindon College exhibition for Illustration and Graphic Design students, D/AD New Blood Exhibition at Earl's Court London, and a solo Internet exhibition on Phone Booth Gallery.
My work can be described as surreal and unique in its own way. Using mostly pencil, watercolours and pigment pens, I create portraits of ordinary people but create them in a unusual way by, embellishing patterns and watercolour effects into the portrait to give a vivid explosion effect—transforming their faces from something plain to something entirely bizarre and wonderful at the same time.
I specialize in shirt designs, print designs, posters, album art, logos, branding, editorial illustration and private commissions."