Tous les articles tagués dentelles
12 Articles
Dentelles Art de Joana Vasconcelos – Portugal.
Dentelles illustratives de l'Artist Iain Macarthur.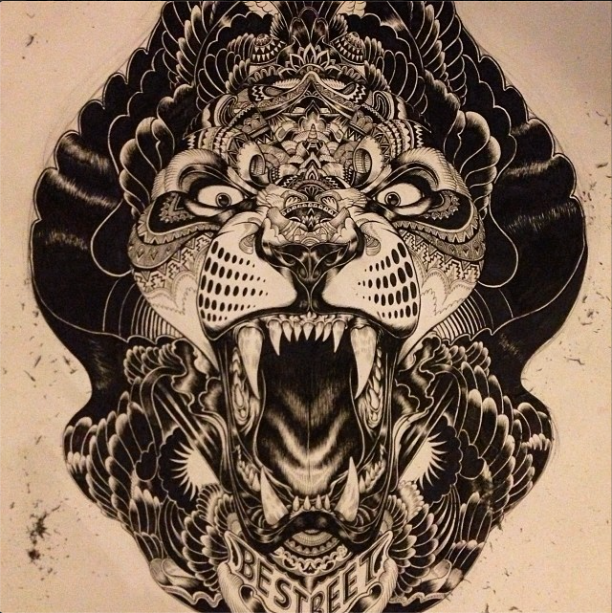 "Born in Swindon, England, I became a fanatic of art at the age of eight when I was first introduced to art through the medium of cartoon television shows and comic books. My first ever comic book was from the Batman series. Ever since then I've been obsessed with art, drawing odd fantasy drawings and Anime characters.
I am influenced by many artists and illustrators – all with differing styles and mediums – and have turned to their work for artistic stimulation over the years. Among them are Alphonse Mucha, Gustav Klimt, Lucian Freud, Jenny Saville, James Jean, David Choong Lee, Sergio Toppi and Ashley Wood. I've also gained much inspiration through cartoons art and lighting; people's facial expressions, eyes and different forms of organic patterns and shapes.
In 2008, I graduated from Swindon College with a degree in HND Illustration and hope to progress to a B.A. in Illustration sometime in the future. I've done a few exhibitions such as the Swindon College exhibition for Illustration and Graphic Design students, D/AD New Blood Exhibition at Earl's Court London, and a solo Internet exhibition on Phone Booth Gallery.
My work can be described as surreal and unique in its own way. Using mostly pencil, watercolours and pigment pens, I create portraits of ordinary people but create them in a unusual way by, embellishing patterns and watercolour effects into the portrait to give a vivid explosion effect—transforming their faces from something plain to something entirely bizarre and wonderful at the same time.
I specialize in shirt designs, print designs, posters, album art, logos, branding, editorial illustration and private commissions."
ART Woodcut Print de Paul Roden + Valerie Lueth.
Magnifique travail à voir sur Tugboat Printshop.
Mixed media – Textile art de Caroline Lingwood, artist and collector of the curious and beautiful…
dans la lignée des créations textiles de Mister Finch.
Follow on / créations de Caroline sur Pinterest
popovy Art dolls Syster's.
Magnifiques creations Art Dolls des Popovy  Syster's, made in Russia.
Beaucoup de floc romantisme, mélange de dentelles noires, d'expressions mélancoliques, lolita's sophistiquées… La grande classe !
Beautiful Art dolls creation of Popovy  Syster's, made in Russia. Romantic, mix of black lace, melancholy expressions, sophisticated lolita's… 
Magnifiques cut paper sculptures de l'artist Rogan Brown (Irlande) qui peuvent pour certaines lui prendre 5 – 6 mois de travail.
"Mon travail est une exploration et une re-présentation des formes organiques naturelles à la fois minérales et végétales. Je cherche des modèles et des motifs répétés qui passent par des phénomènes naturels, à différentes échelles, du microscopique au macroscopique, à partir de cellules individuelles à des formations géologiques à grande échelle.

Je suis inspiré en partie par la tradition du dessin scientifique et en particulier le travail des artistes-scientifiques tels que Ernst Haeckel. Mais même si mon approche implique une observation attentive et dessins préparatoires détaillées "scientifiques" ceux-ci sont toujours remplacées par le travail de l'imagination, tout doit être réfractée à travers le prisme de l'imagination, aliéné et en quelque sorte transformé.

Je veux communiquer ma fascination pour l'immense complexité et l'intrication de formes naturelles et c'est pourquoi le processus derrière mon travail est si important. Chaque sculpture prend beaucoup de temps et de main-d'œuvre et ce travail est un élément essentiel non seulement dans la construction, mais aussi pour le sens de chaque pièce. J'ai choisi le papier comme support, car il reflète parfaitement ce mélange de délicatesse et de durabilité qui pour moi caractérise le monde naturel.

«Aux yeux de certains hommes, la Nature est l'imagination elle-même ". William Blake

///

My work plays with the architecture of nature and organic growth. By identifying patterns and motifs that occur in the natural world in different contexts and at different scales, both macroscopic and microscopic, I have developed a formal, aesthetic vocabulary that I use to construct hybrid sculptural forms, half real, half surreal.
et particulierement son blog où les visuels sont d'une bonne qualité.
Magnifiques creations textiles de Jung Jung.
A découvrir sur son site !
[Origine : Japon]
Jenine Shereos, Artist Hair
Dans cette série, les subtilités de la veines de la feuille sont recréés par couture, nouage des mèches de cheveux humains. Inspiré par le venation sensible et détaillée d'une feuille. La création de ce travail a été un processus très méditatif pour moi, car je me suis retrouvé perdu dans le détail des petits microcosmes organiques qui ont commencé à prendre forme.

Le réseau complexe de lignes présentes dans ce travail imite les motifs organiques trouvés dans la nature et parle aux systèmes naturels de transformation, croissance et décroissance. Allusions à des tissus vasculaires de plantes, ainsi que le système vasculaire du corps humain, existent simultanément;
Les dentelles en papier de Hina Aoyama (vit à Genève),