Tous les articles tagués deco
5 Articles
Plant Art !
A living green wall.
An antidote to cynicism.
A meditation on love.
Beautiful Art Tapestry sculptures of Frederique Morrel. Multi-talent artiste (France, Paris)
Craquage total pour l'œuvre très créative de cette artiste !
Un univers frais, coloré et joyeux.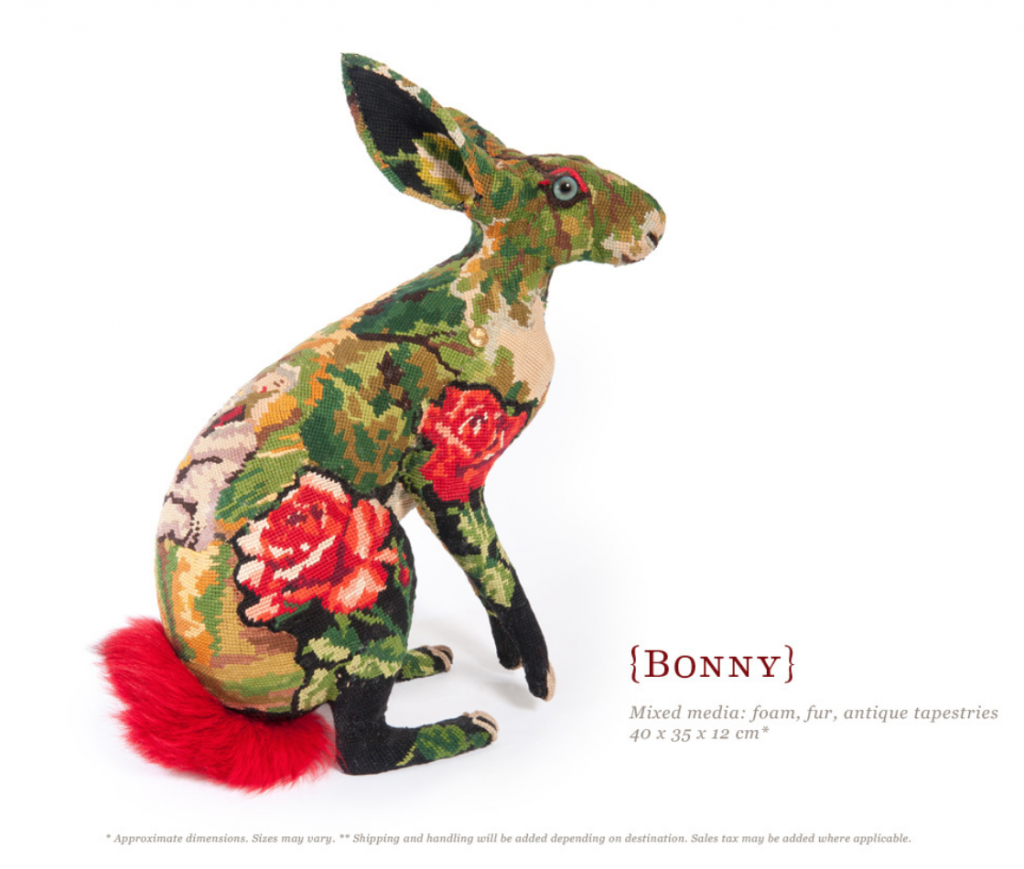 "We speak to animals in their own language. We like materials that tell stories of simple, ideal happiness, and that have been caressed by many hands.
We are inspired by Adam and Eve. The Garden of Eden. temptation. Original sin. The fall of man. Paradise Lost. Deluge. Apocalypse. Noah's ark. Redemption. Re-birth. Vanities. Veneration.
We Question the dynamics of man vs woman, craft vs industry, of art vs decoration, of man vs animal, of beauty vs ugly, luxury vs cheap."
The nature dress & installations Nicole Dextras – An environmental artist working with ephemeral materials. (Canada)
News : exposera ses "Mobile Garden Dress" : Jardins, Jardin aux Tuileries Paris, en Juin 2015.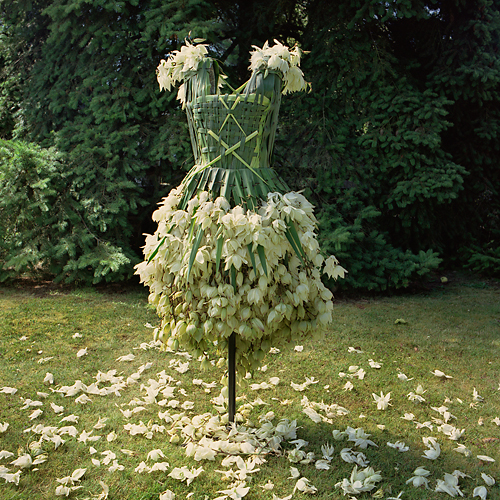 Le concept de "Little Dress Garden" a été créé afin que chaque femme ait au moins un élément dans sa garde-robe qui soit produit de façon durable et équitable. Le projet vise à sensibiliser sur l'impact de l'industrie sur notre environnement et d'offrir une possibilité réaliste de changement en créant une demande pour des meilleures pratiques par le biais des consommateurs.
Pour cette raison, les robes ont été entièrement créée à partir de matières organiques ; " Portez-la et qu'elle se composte ! " est le slogan.
Ce projet se démarque de la "robe noire" omniprésente avec celle qui est véritablement organique : fabriquées à partir de feuilles et de fleurs.
Sa conception est basée sur la robe classique, tout d'abord introduite dans les années 1960 par Coco Channel. Vingt-huit femmes participantes ont été choisies pour leur soutien et leur engagement dans l'éco-mode. Chaque robe a été créée sur mesure par l'artiste à partir de matériaux locaux qui représentent un large échantillon représentatif de femmes de tous âges et de tailles. 
Le projet a été présenté à l'exposition Earth Art à Vancouver, Canada  (2012) avec 28 robes, chacune drapée sur un socle en bois, et photographiée du début de sa création jusqu'à sa décomposition.
///
My focus as an artist is to create environmental art and ephemeral installations based on the principles of a socially engaged art practice. The Weedrobes series, which began in 2005 as an experiment in making garments from leaves and flowers has now evolved into a series that also examines consumerism, the fashion industry and the constructed landscape.
The intention of the Weedrobes series is to engage the public on several levels: through street interventions, garden settings and gallery exhibitions. Each new piece begins as a wearable sculpture constructed from local and renewable plant materials. It is then photographed with a model in a landscaped urban setting emphasizing the impact of humans on the natural environment. The third stage consists of a public intervention in a shopping area where the garment wearer engages with passersby regarding issues of disposable consumer goods. The garment/sculpture is later installed in a garden or park setting and left to decompose over time.
Nicole Dextras fait aussi de magnifiques décors de vitrine, toujours dans un esprit très nature.
et toi, c'est quoi ta meilleure palette de couleurs ?
Si vous avez des soucis pour sélectionner des teintes, improviser des correspondances de teintes, trouver des teintes complémentaires ? ce site va vous y aider.
design-seeds.com  vous propose de jolies palettes de teintes à partir d'une base de tres beaux visuels en général.
Le hic ensuite, c'est de faire son choix.