Tous les articles tagués australia
6 Articles
Sam Jinks hyperrealiste sculptures. (Australian sculptor).
Retrouvez tous les sculpteurs hyperRealistes contemporains sur ma page "SCULPTURES ADDICT"
EnregistrerEnregistrer
John Morris Sculptures – (Australia) /
The works of John Morris spring from exhaustive sketching and illustration, drawing on intensive research. Subjects include skeletal bone, muscular structure and the imagery of fashion photography.
Often, prosthetic limbs and super-accentuated body part proportions tie the pieces together, bringing to mind the surreal imagery of anime and the comic strip depictions of superheroes and heroines. He skilfully uses leather, brass, and stainless steel to provide stark contrasts with the warm texture of the wood.
Contemporary art – Abbey McCulloch (Australie) – born 1975, New Zealand, lives and works in Queensland.
Abbey McCulloch paints quirky sometimes unsettling, representations of female figures sketched onto a sparse background. Working with bold colour choices and often highly textured facial features,  McCulloch creates visually engaging paintings, resulting in figures that entice us, yet stand guarded and restrained within our presence. Raw emotion is presented to us through the use of loose charcoal sketches that work up to the highly worked-up painted facial expressions. "I like the idea of exposing the processes and, in doing so, the final product is left with a more restless conclusion." (source : hscvisualartresources)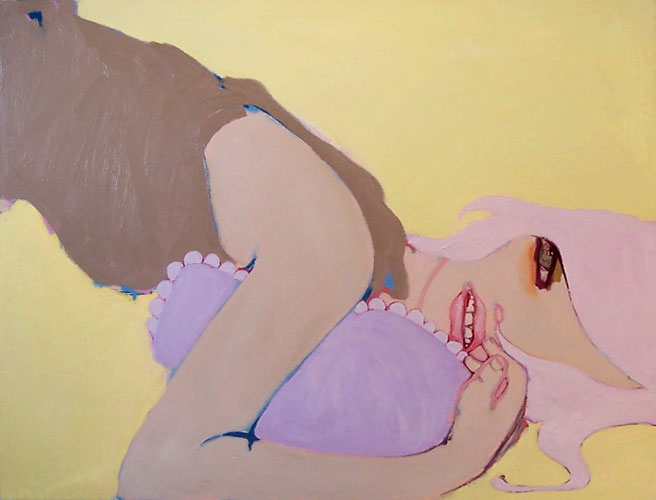 Narrative paintings of James Guppy, born in London (1954). Live and work in Australia.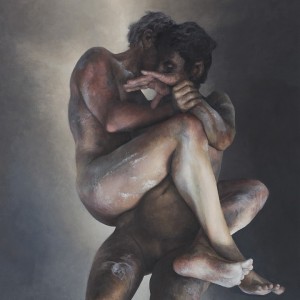 Guppy's powerful and enigmatic narrative-based paintings travelled to eleven different locations in Australia in a national solo touring survey show (2009 – 11). Throughout his career, Guppy's subject matter has varied from surreal moments, scenes of suspense, explosion clouds, formidable women and anthropomorphic beings, all executed with a refined and intelligent approach, appearing both dramatic and lifelike.
Organic Sculptures Juz Kitson (Australia)
Juz Kitson, jeune céramiste de la côte centrale de Sydney, utilise sa fascination pour les formes organiques pour créer des sculptures d'une beauté troublante. Inspiré de l'artiste Kiki Smith.
Elle utilise le latex, le plâtre et la porcelaine pour créer un affrontement troublant entre le beau et le grotesque. Combiné avec d'autres matériaux tels que le crin de cheval, laine, os et peau de serpent, chaque œuvre fait allusion au naturel, mais frole l'étranger.
Panoramic photographies de Catherine Nelson ! Comment dire… Magnifique !!
Catherine Nelson is a visual artist who uses the digital medium to paint images together into personal and imaginary landscapes. Trained as a painter in Sydney and London and with years of experience in the creation of visual effects for feature films like Moulin Rouge and Harry Potter, she now has dedicated her skills to her own art work combining the techniques from both these worlds into a new contemporary art medium.
Her latest series have been exhibited in Australia, New Zealand, China, Korea, USA and Europe and have captivated audiences and art collectors in cities like Sydney, Paris, Los Angeles, Beijing and Seoul.