Tous les articles tagués artistique
339 Articles
Realistic Puppies Sculptures Minami Kawasaki. (Japan)
Named "Home sweet home", so cute !.-  Wool sculptures.
No more information about this artist ?
Contemporary art – Abbey McCulloch (Australie) – born 1975, New Zealand, lives and works in Queensland.
Abbey McCulloch paints quirky sometimes unsettling, representations of female figures sketched onto a sparse background. Working with bold colour choices and often highly textured facial features,  McCulloch creates visually engaging paintings, resulting in figures that entice us, yet stand guarded and restrained within our presence. Raw emotion is presented to us through the use of loose charcoal sketches that work up to the highly worked-up painted facial expressions. "I like the idea of exposing the processes and, in doing so, the final product is left with a more restless conclusion." (source : hscvisualartresources)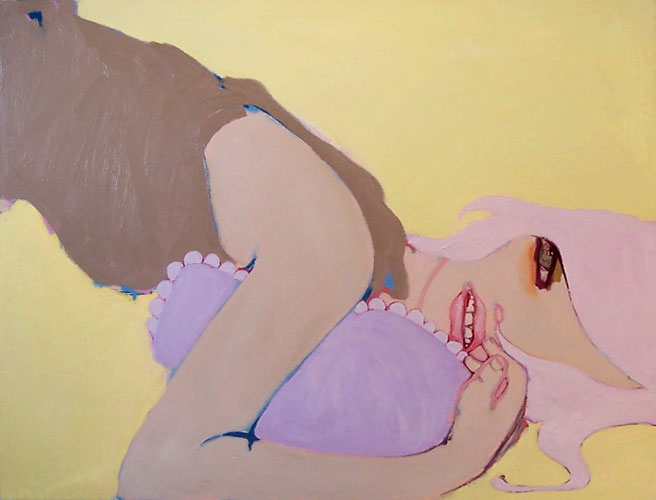 Judy Fox Sculptures – Ceramic sculptor working in New York .
She is represented by PPOW gallery in New York, and at Galerie Thaddaeus Ropac in Europe. A complete catalogue of figurative sculpture from 1990 to 2005 is available, edited by Austrian critic Barbara Wally.
She is best known for her fired clay figures of nude children that are realistically painted with casein paint. Her sculptures of children address child sexuality, and her meticulously detailed adult nudes reflect her interest in feminist issues.
Jesse Thompson – Sculptures / resin –
Playing with Proportions  "For whatever reason, I have this affinity for the weird, ugly and uncomfortable, and a sort of distaste for the beautiful and lovely,"
Originally from New Jersey, Jesse Thompson has made his home in Providence, RI.  After graduating from the Rhode Island School of Design's Masters in Sculpture Program in 2007, Jesse established a studio on Providence's west side where he makes sculptures, paintings, drawings and friends with stray cats. He teaches drawing, illustration, anatomy and animation at The Rhode Island School of Design, Monserrat College of Art, and Bristol Community College.
Fairy Art dolls – cdlitestudio (Canada)
Luminous Fish Frank Gehry – first produced his Fish Lamps between 1984 and 1986 using the then-new plastic laminate ColorCore. After accidentally shattering a piece of ColorCore while working on a commission for Formica, he decided to use the broken shards as fish scales by glueing them onto wire armatures.
Frank Gehry est l'Architecte de la Fondation Louis Vuitton (espace dédiée à la création contemporaine) ; où l'on peut y admirer ses poissons (Restaurant).